Les précommandes se terminent dans
19 jours
334
précommandes sur un objectif de 200
Here is the Frisco new pair of sneakers that will fit you!
Comfort, aestheticism, and quality : pick your colour and preorder our sneakers now!
Select your model by choosing:
Man / Woman
Your color
Your size
Delivery: end of April for the first 200 preorders,
early May for the next 400
Features

Lace sneakers made with white smooth leather
Rubber sole
Suede leather (White Blue Red and Nude)
Goatskin leather (Brick)
Full calf leather from Northern Italy
Full calf leather lining

Delivery

Delivery: end of April for the first 200 preorders,
early May for the next 400

Learn more

Beware: the production is limited, with bargain price until...!

Don't miss your chance.

Shoes care

We recommend waterproofing your shoes as soon as you receive them, and then regularly throughout their lifespan to repel dirt and water stains. This will optimize the lifespan and good condition of the leather.

In order to clean and nourish the smooth leather, use the Pied de Biche beauty cream, with a soft cloth.
To waterproof your shoes, we propose the Pied de Biche waterproofing spray

You can also chose our Care kit : contains a beauty cream and a waterproofing spray.
CONTRASTING BACK YOKE
Pied de Biche sneakers can easily be recognized thanks to their contrasting back yoke, matching with laces!
LES FRISCO


BACKSTAGE


Chez Pied de Biche, nous allouons beaucoup d'énergie dans le développement de nos produits. 
Avec Anaïs, notre directrice artistique, on explore sans cesse de nouvelles pistes.
Depuis un peu plus d'un an maintenant, nous avons mis au point plusieurs modèles de sneakers et votre avis compte pour peaufiner les détails qui sont cruciaux pour vous (esthétiques comme techniques), mais également pour développer la bonne gamme de coloris, celle que vous avez choisie.
Nous vous avons donné l'occasion de choisir la piste de développement qui vous plaît le plus en vous mettant à disposition un questionnaire BACKSTAGE !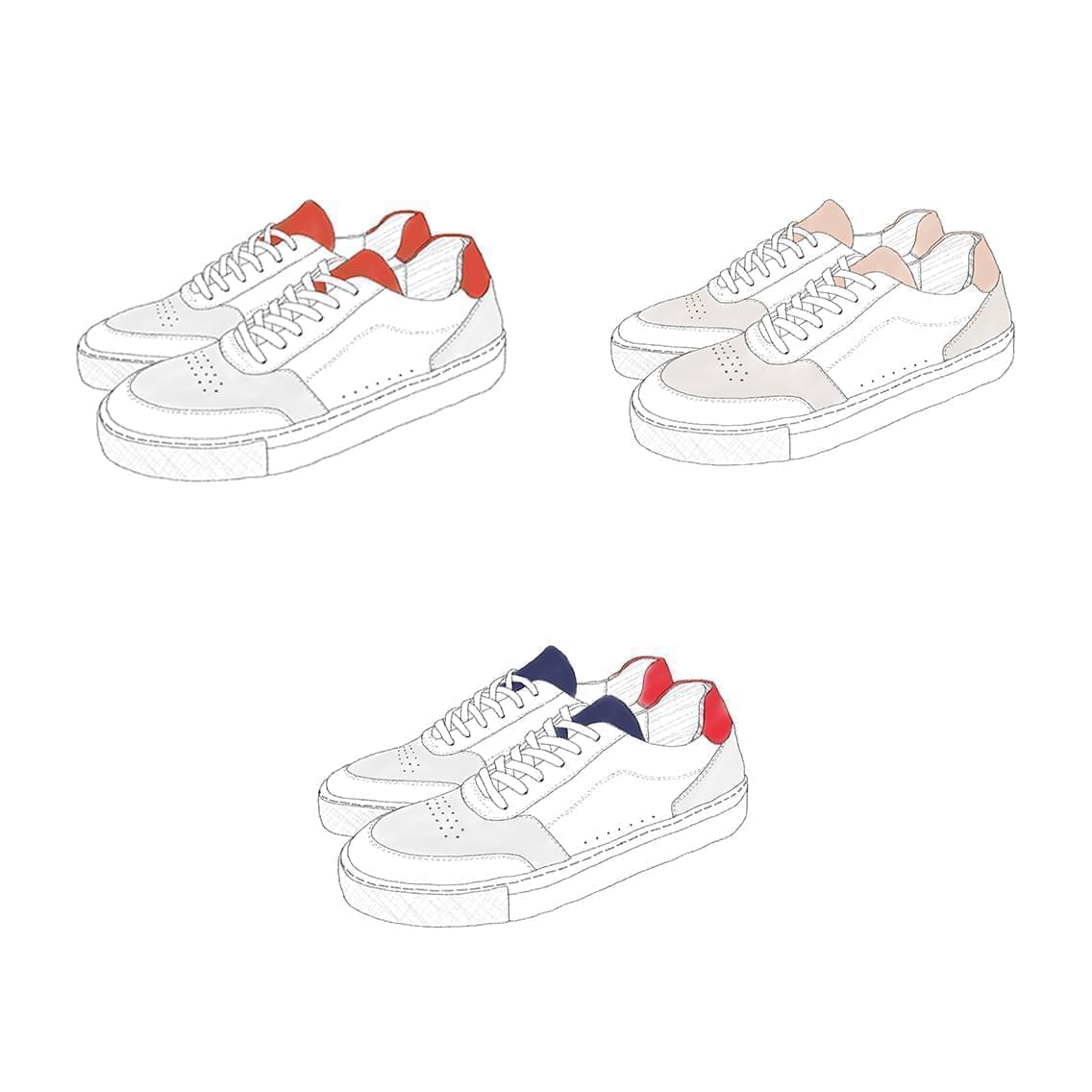 VOICI CE QUE VOUS NOUS AVEZ RÉPONDU


Pendant 12 jours, vous avez été plus de 4 400 à répondre au questionnaire sur votre prochaine paire de sneakers.
Nous avons travaillé dans notre coin depuis plus de 14 mois maintenant pour mettre au point les prochains modèles de Sneakers. En tout, plusieurs dizaines de prototypes dans 4 ateliers différents.
Il ne nous restait plus qu'à développer les coloris que vous aviez choisi, et affiner notre produit avec vos exigences, à savoir : un style affirmé, un confort accru et bien sûr, comme toujours, une qualité irréprochable.
Voilà donc ce que vous nous avez dit, en image.