135,00 €
Reservation in store
Here is the Frisco new pair of sneakers that will fit you!
Comfort, aestheticism, and quality : pick your colour and preorder our sneakers now!
Select your model by choosing:
Man / Woman
Your color
Your size
Delivery: June 10th.
Features

Lace sneakers made with white smooth leather
Smooth leather (White Blue Red and Nude)
Goatskin leather (Brick)
Rubber sole
Full calf leather from Northern Italy
Full calf leather lining

Delivery

Learn more

Beware: the production is limited!

Don't miss your chance.

Shoes care

We recommend waterproofing your shoes as soon as you receive them, and then regularly throughout their lifespan to repel dirt and water stains. This will optimize the lifespan and good condition of the leather.

In order to clean and nourish the smooth leather, use the Pied de Biche beauty cream, with a soft cloth.
To waterproof your shoes, we propose the Pied de Biche waterproofing spray
The suede part of the shoe must be cleaned with our Sublim Daim, after using the crepe brush to dust it.

You can also chose our Care kit : contains a beauty cream and a waterproofing spray.
CONTRASTING BACK YOKE
Pied de Biche sneakers can easily be recognized thanks to their contrasting back yoke, matching with laces!
FRISCO


BACKSTAGE


At Pied de Biche, we spend a lot of energy on our products development.
With our Artistic Director, Anais, we constantly explore new ideas.
Since more than a year now, we develop several sneakers models, and we need your advice so that we polish crucial details for you (aesthetic and technical). We also want to offer you the right range of colours, the one you chose.
We gave you the opportunity to choose the development idea that you like the most, by sending you a survey.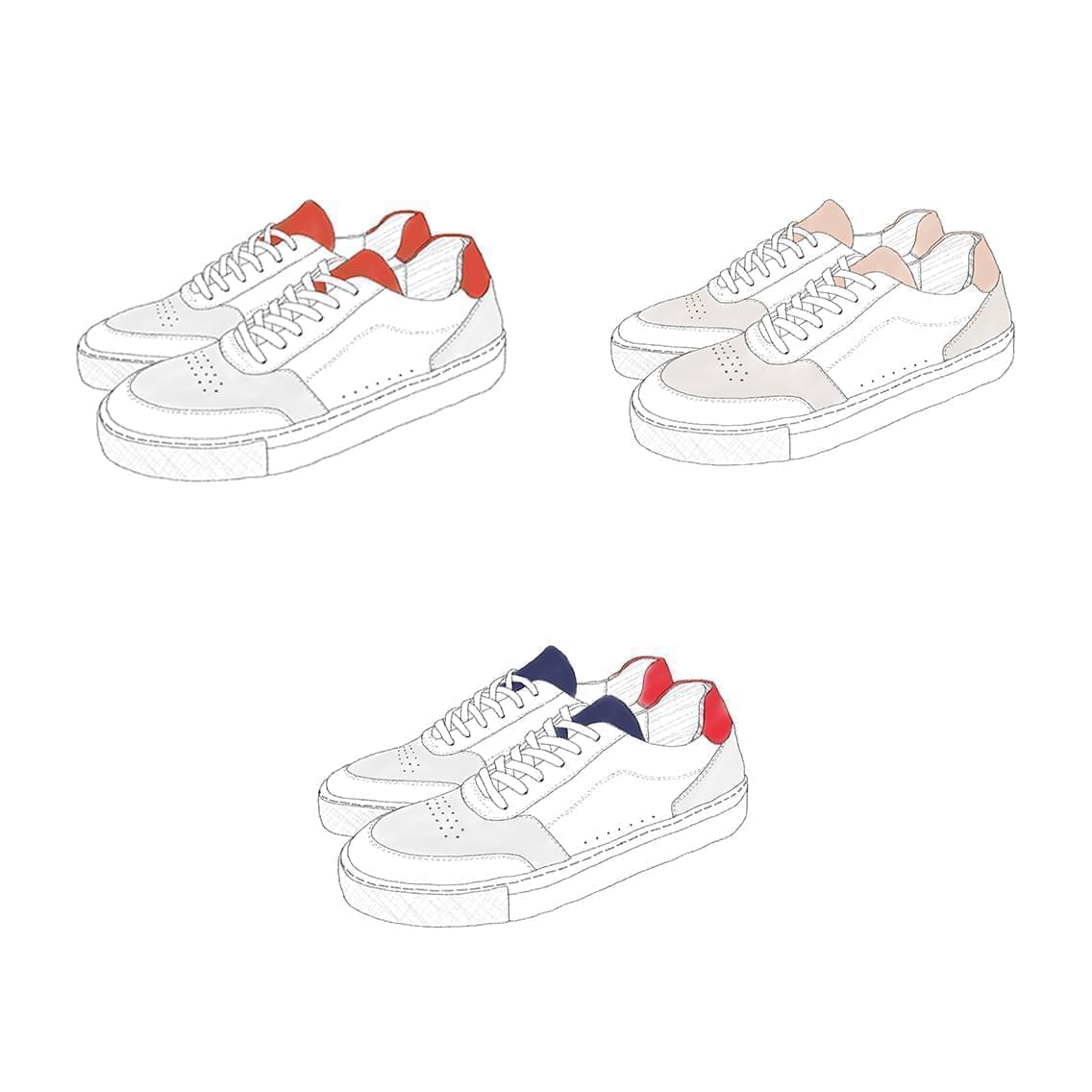 HERE IS WHAT YOU TOLD US
For 12 days, you have been more than 4 400 to answer our survey about our next sneakers.
We have been working for more than 14 months now to develop the next new sneakers model. Altogether, tens of prototypes in 4 different workshops.
We just had to develop the colours you chose, and refine our product with your expectations, that are: a distinct style, an enhanced comfort, and of course, as always, the highest quality.
Here is what you told us.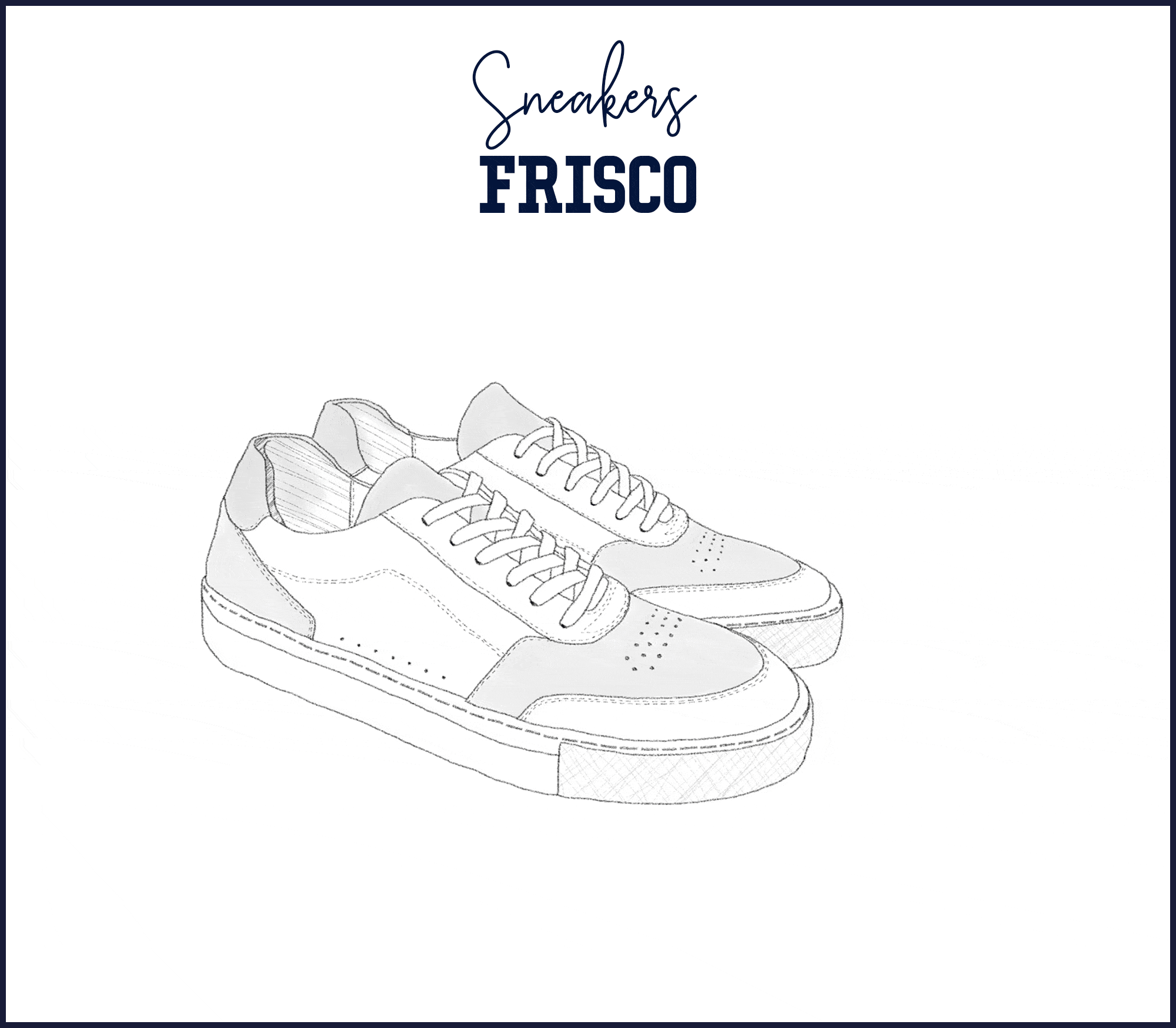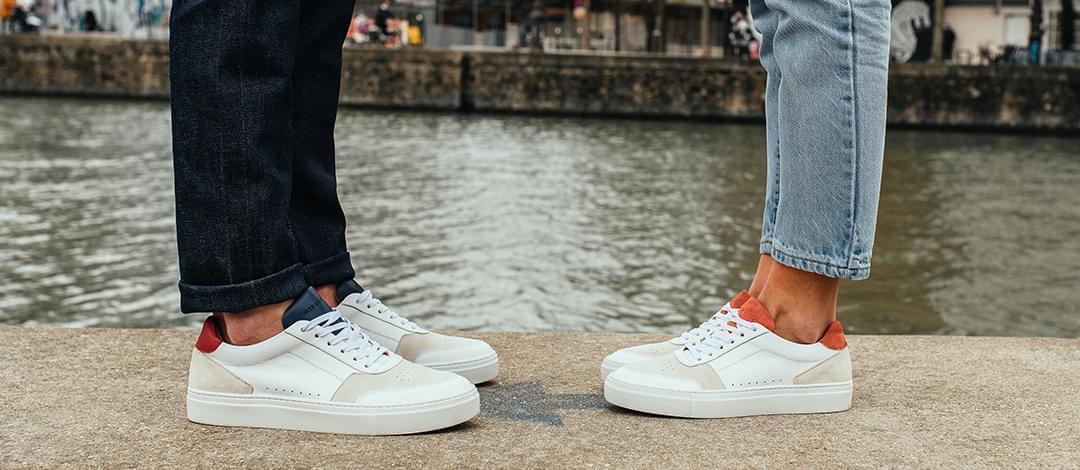 cHaracteristics


The FRISCO was made according to your requirements: comfort, aestheticism and quality!
We worked on the FRISCO like we did on all you models: by creating an unique pattern, that would be convincing, simple and elegant all at once. This time, the bet were even more exciting as we wanted a more sportswear and "street" model, but that can still be worn for everyday wear with a chic or casual way.
The many draws mixed to your votes made the FRISCO: a sporty profile with stylish cuts, always with a colorful touch, specific to the Pied de Biche DNA. Like our iconic Chelsea Boots, the FRISCO is a mixed and timeless model.
With our drawing by our side, we went to see our Portuguese partners in order to refine the model with them, according to the criteria that you had chosen. We went to see our Italian leather suppliers, and selected the most beautiful leathers, so that your FRISCO fits the colours that you requested. But also, they had to be resistant and flexible. Your sneakers are therefore entirely made of calfskin leather, which allows them to be breathable and durable. We selected soft-coloured leathers, so that you can wear them with all your outfits, and wake them up in a subtle way!
For the confection part, no hesitation: we called in our favorite partners on the side of Porto. The are the ones who take care of our current sneakers confection. In addition to their indisputable know-how, we now have enough perspective to know that their work is of a high quality. From stitching to assembly, everything is handmade, with great care. It will make your FRISCO durable and will bring you unparalleled comfort.
You can note this work quality by focusing on the seams subtlety, whether for decorative seams, yokes, or the seam that binds the sole to the rest of you sneakers: the assembly technique used here is a double stitched. A lateral sewn, then a special sewn to the sneakers: the Stroebel fitting. They are guaranteeing your FRISCO longevity.
And because comfort has emerged as a primary criteria for your sneakers, we wanted your FRISCO to be a real slipper: a removable 2mm foam insole will fill the bottom of your basket, so your foot is in heaven!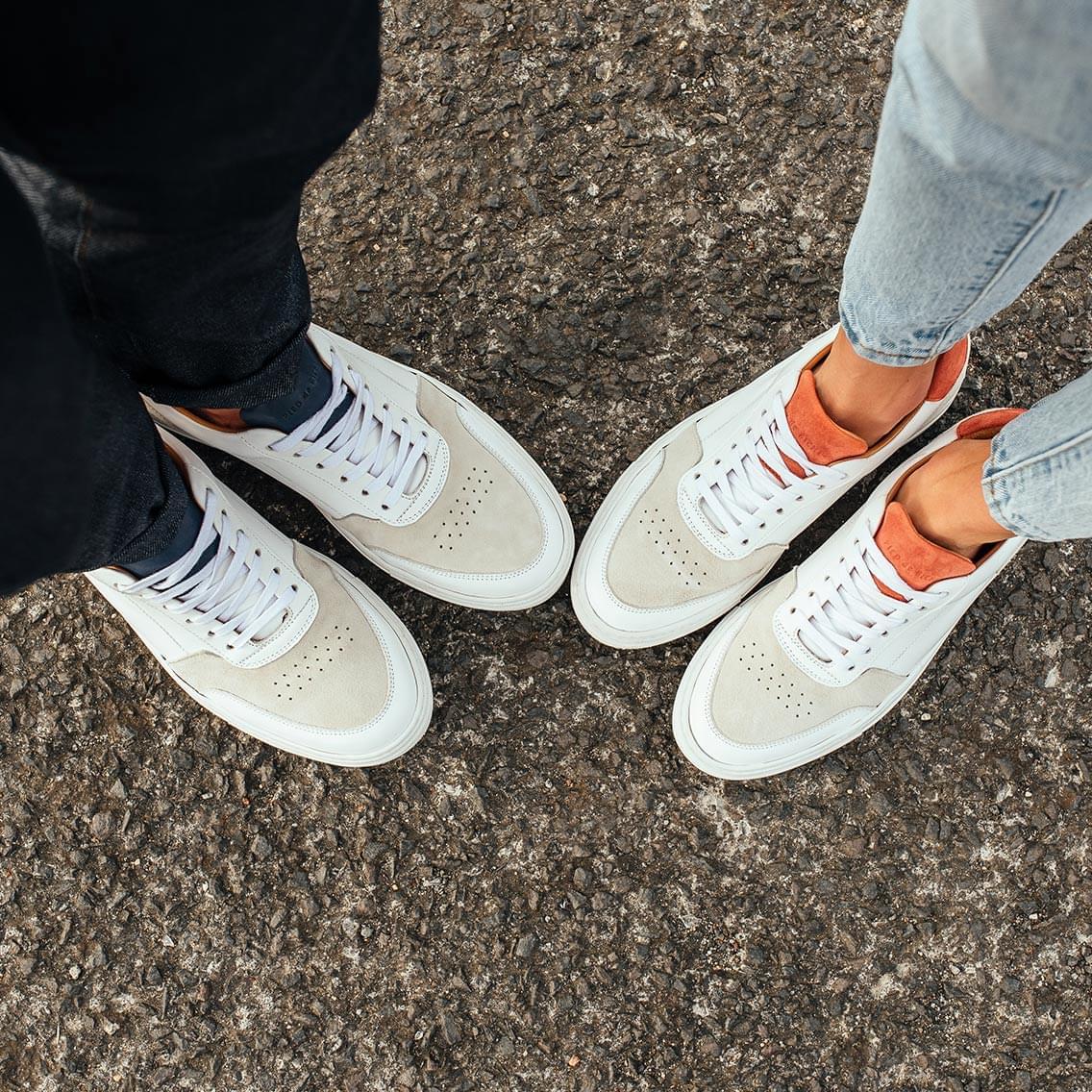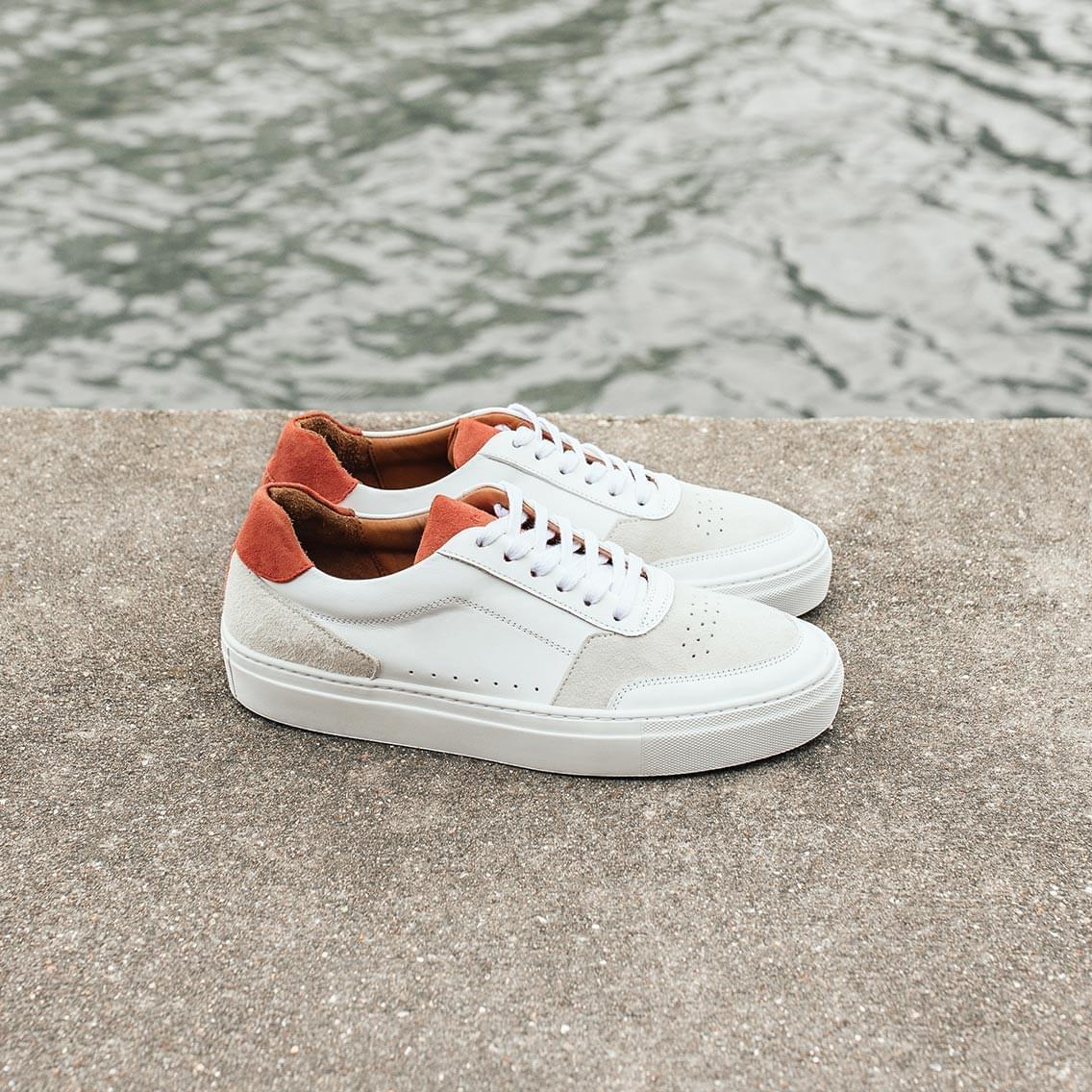 THEIR MAINTENANCE


Taking care of your FRISCO? Easy task with the Pied de Biche care products.
The FRISCO team is entirely made of leather, and therefore requires careful maintenance, to make it last. The skins we use are of high quality, and can follow you a for a long time if you take special care.
To begin, we recommend to waterproof entirely your FRISCO as soon as you receive it, and then regularly throughout their life, in order to protect them from water and stains.
To clean and nourish the leather, use the Pied de Biche cream (white, blue and red leather only): apply a dab of it on a clean cloth and massage the smooth leather. Leave for a few minutes, then massage again with the cloth alone this time, to bring out the natural shine of the leather.
For the suede leather (brick, nude, and grey yokes), use the crepe brush to remove dust and stains. If the colours show signs of fatigue, apply Sublim Daim, and your suede leather will regain its original look! Remember to protect the whole shoe with the waterproofing, on a regular basis.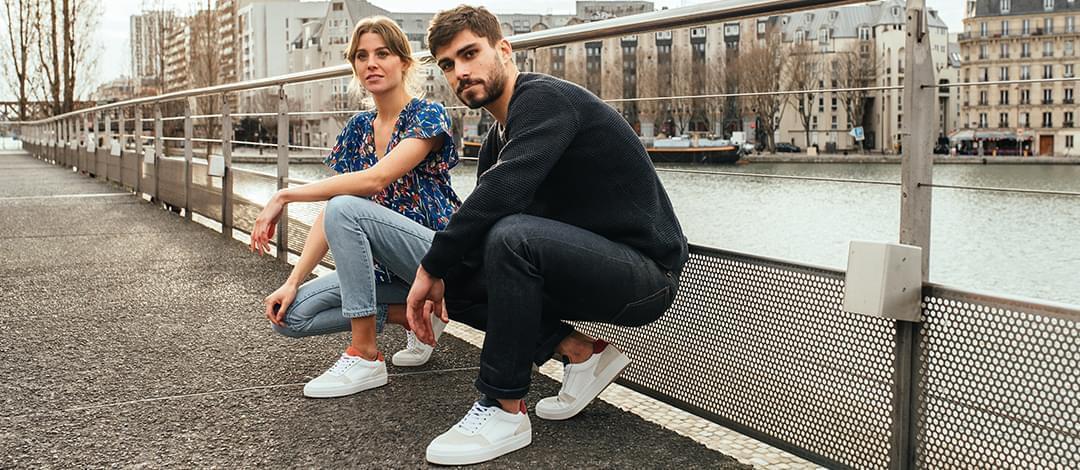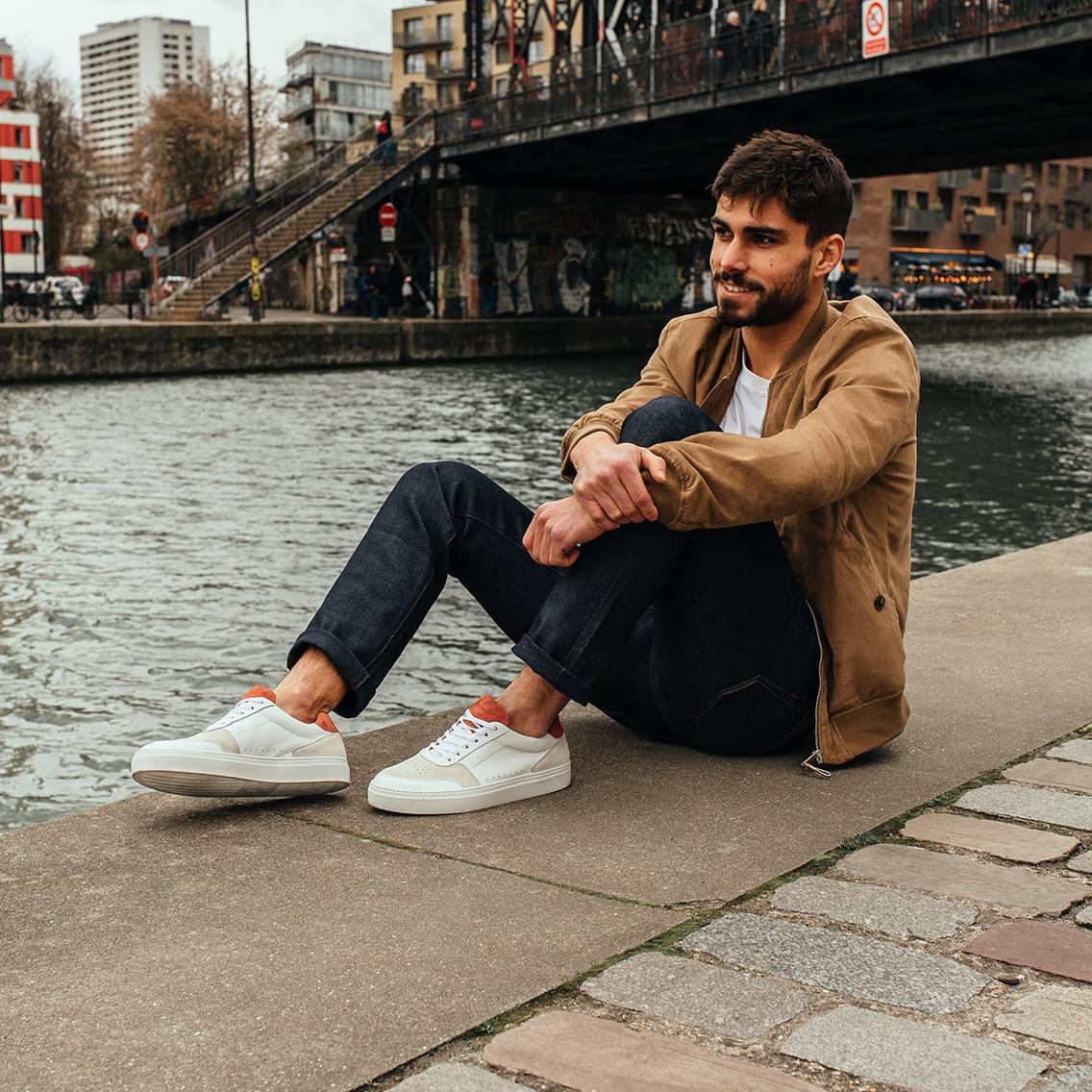 FOR MEN


Sneakers became classics of men's wardrobe.
At Pied de Biche, we attach as much importance to the technical characteristics as to the style of our creations.
Designed with calfskin leather, used by the greatest luxury craftsmen, our FRISCO combine streetwear and elegance.
Their clean lines let you wear it with dress pants, to energize your outfit a bit. You can also simply pair them with jeans for a subtly casual style that stays stylish.
To conclude: raw jeans, casual chino or dress pants, you make no mistake with our FRISCO!
FOR WOMEN


Sneakers have invaded female wardrobe! Far from the casual look that this model could give, the Pied de Biche sneakers are thought as real creations that will suits you for any occasion.


In suede, smooth leather, or even goatskin, the FRISCO for women play with materials and colours, to bring the little special touch that is missing to your look!


Their clean lines, trim, their contrasting yokes are the brand DNA's reflections that let you bring a subtle colour touch to your look. The white rubber insole of your lace-up sneakers and their calfskin leather lining make these women sneakers both stylish and comfortable!


With our FRISCO, you can define a casual look (with jeans, a skirt or even a dress), as a more dressy look with a leather skirt or a suit, they will be the casual touch of your outfit!