Casual Derbies
Derbies are low lace shoes, with independent side upper. Contrary to "Richelieu", they offer a higher comfort thanks to easy lacing.
Pied de Biche decided to reinterpret those formal shoes.
Our derbies can be wore in every situations, either with a suit or a casual outfit! They will become your daily basis!
Timeless derbies
It is a classic model of men's wardrobe and this year, we have diversified the colors and shapes to the delight of the greatest number.
The leather derby is the essential model of low city shoes for Men. Pied de Biche had to reinterpret this timeless, by offering a modern, high-end but accessible version.
Leather flexibility
All our derbies are fully lined in cowhide leather for comfort.
A lacing that can even release the pressure at the end of the day.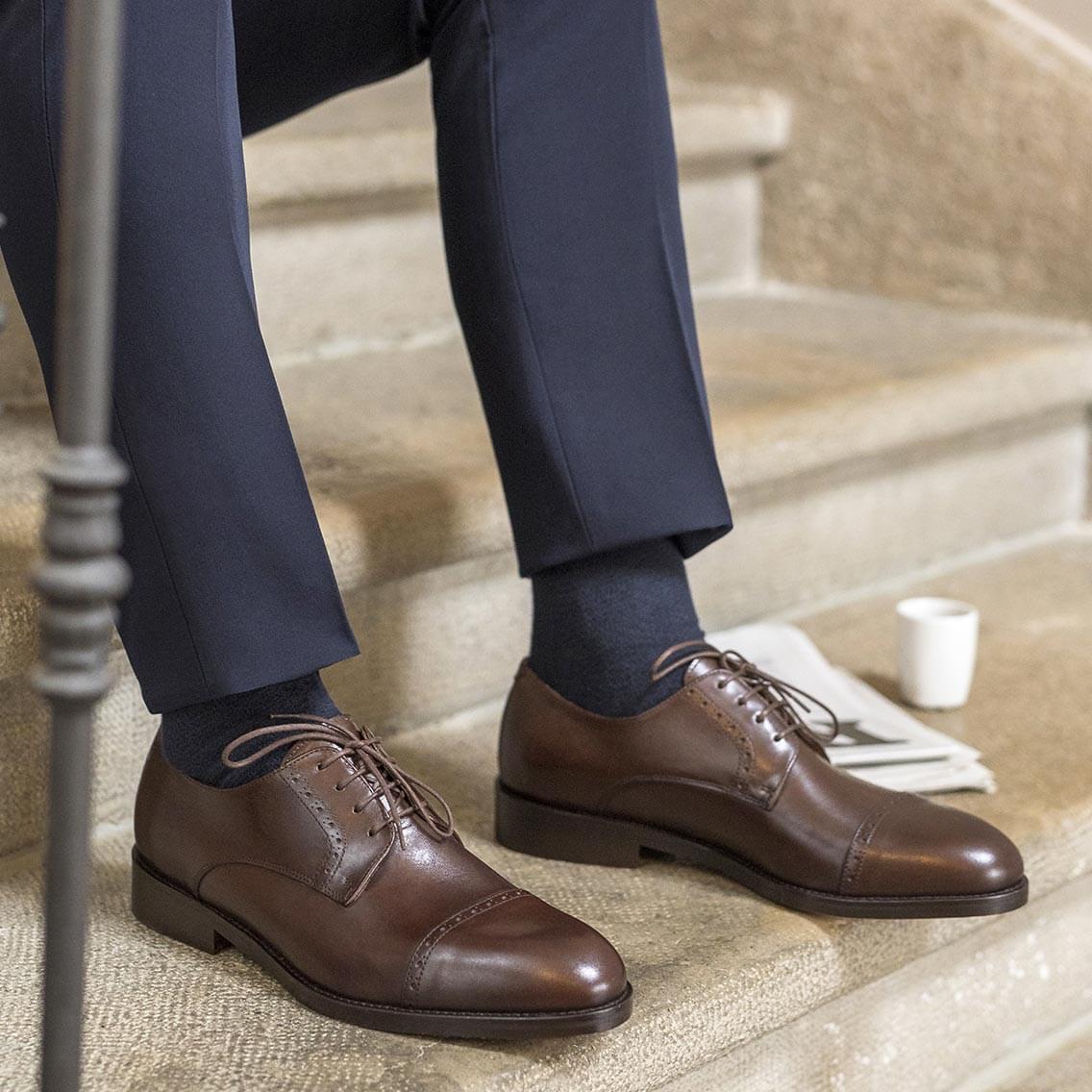 A blake sewn

The Blake stitching makes the shoes light and flexible. They are delivered with a provisional pad to protect the sole, then a pad must be placed.
What we offer you on this collection
OUR CLEAN DERBIES
This model goes to the basics. His sobriety makes him a strong ally. It is offered in two colors of Havana and Burgundy pull-up leather and a Fauve suede calf.
OUR NEW RIGHT-END DERBIES
Delicately accompanied by perforation on the front of the shoe. They are in smooth leather in Cognac, Brou de Noix and Noir and of a tapered shape. They have perforations along the seams.
OUR OXFORD
Otherwise called Richelieu, this timeless model is particularly worked. It is an ideal model for a wedding or other formal occasions.
OUR DOUBLE LOOP
In English, they are called Monk and are a variant of Closed Derby. They are chic and modern and bring a more casual look. We offer them in chocolate grained leather, more relaxed and in smooth black leather.
They are easy to put on with a double buckle closure system.