Clamp, ZAMAK Buckle
The 360 degree lacing made of the same leather as the uppers, will ensure a snug fit. The Zamak buckle is mounted on a small elastic, the fit will be perfect.
Derbies and Oxford, our essentials for men's wardrobe
Our permanent collection is growing
This season, we have worked hard to revisit two iconic models of men's shoes: the Derbies, and for the first time at Pied de Biche the Oxfords. A must in the male wardrobe, we couldn't help but do it! In smooth or suede leather, black or tan color, with laces or buckles, you now have a wide choice to dress each of your costumes. Classic timeless, these two iconic models will now be part of our perms, which means that you can find them every season.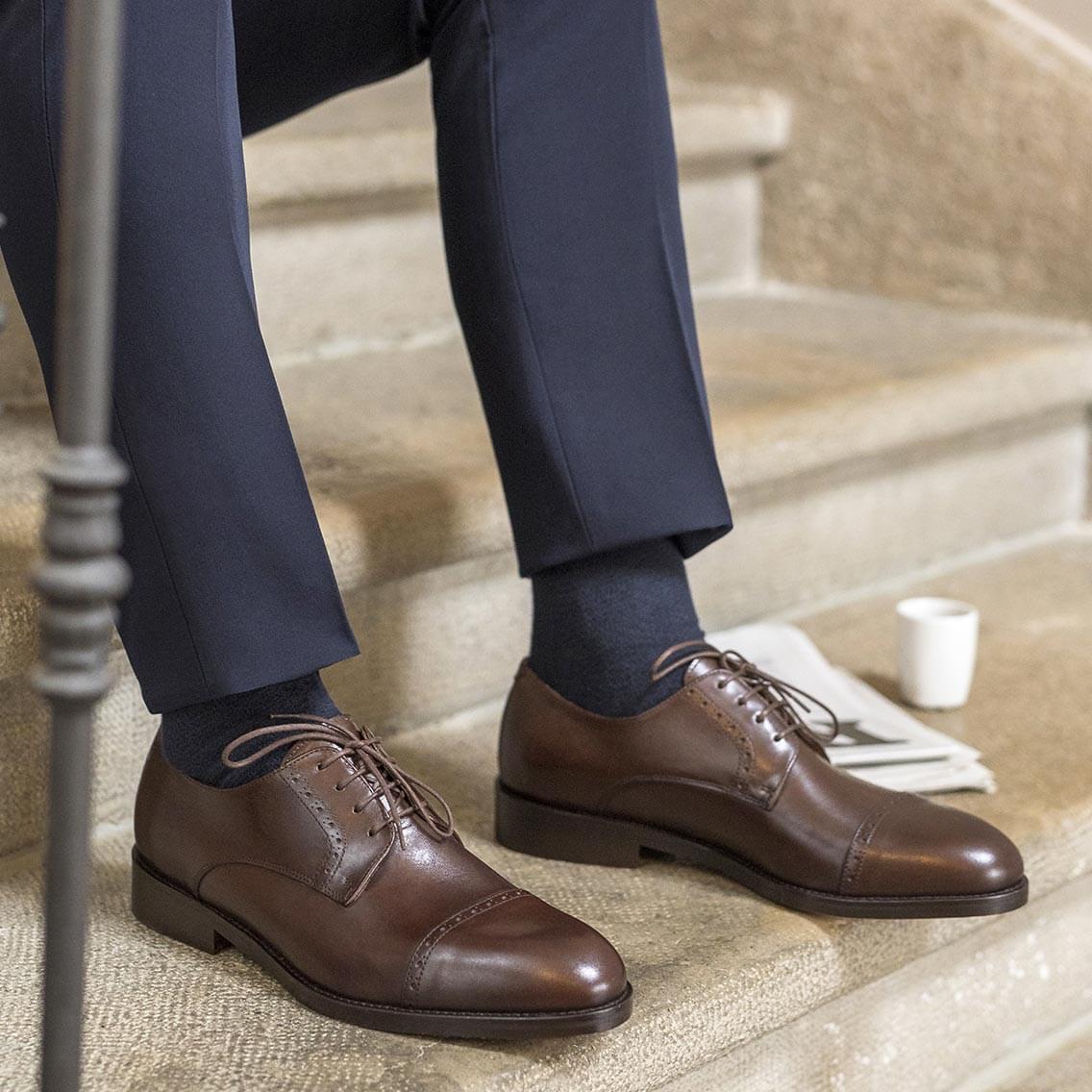 Oxford, Derbies, Richelieux, Monk ... But what is the difference?
Very close to each other, we often tended to confuse the Richelieu and the Derby. However, an essential characteristic distinguishes these two models: their lacing system. To never go wrong again, here is a small lexicon of low shoes. The Richelieu, otherwise known as Oxford in England, or even Balmoral in Scotland, is characterized by a closed lacing, which gives a V-shaped opening to the shoe. The Derby, on the other hand, has an open lacing, which makes it easier to put on and will be better suited to strong kicks. Finally, the Doubles-Boucles, also nicknamed Monk, is a form of Derby without laces.
The origins of the Derbies and Oxford
Today great classics, the Richelieux and Oxford were first considered as truly revolutionary models for the time and were shaped against a current flagship model: the boot. In opposition to these dress codes, students at the University of Oxford began to wear in the 19th century a half-boot with laces, considered less restrictive, and above all more comfortable, which quickly became fashionable. The Oxford was born! More flexible than the Richelieu, the Derby would then have derived from this model by widening, to allow the Earl of Derby (hence its name!), Endowed with atypical feet, to be able to wear shoes.
Exceptional shoes
Noble materials
Like their 200-year-old history, we wanted to make our Derbies and Oxfords as durable as they are timeless, so you can keep them for life. To do this, we have selected each of the materials that compose them with the greatest care. The uppers of each of our Derbies and Oxfords are made entirely of cowhide leather chosen from the Trentino region in the North East of Italy and then hand-skated, which makes each pair truly unique. The heel is made of a piece of leather and a natural rubber pad, and the sole, like each of our models, is also made entirely of leather.
Ancestral know-how
No quality shoe without know-how! And it must be said that the Derbies and Oxford are complex models whose manufacture cannot be improvised. To reach our level of requirement in terms of quality and finish, we therefore went in search of a new workshop, with specific expertise. It was south of Porto, the shoe capital, that we found the rare pearl: Ruben mastered all the stages of manufacture with a master's hand and was ready to respond to each of our requests. Many hours of work and a hundred prototypes later, our Derbies and Oxford corresponded in all respects to our expectations.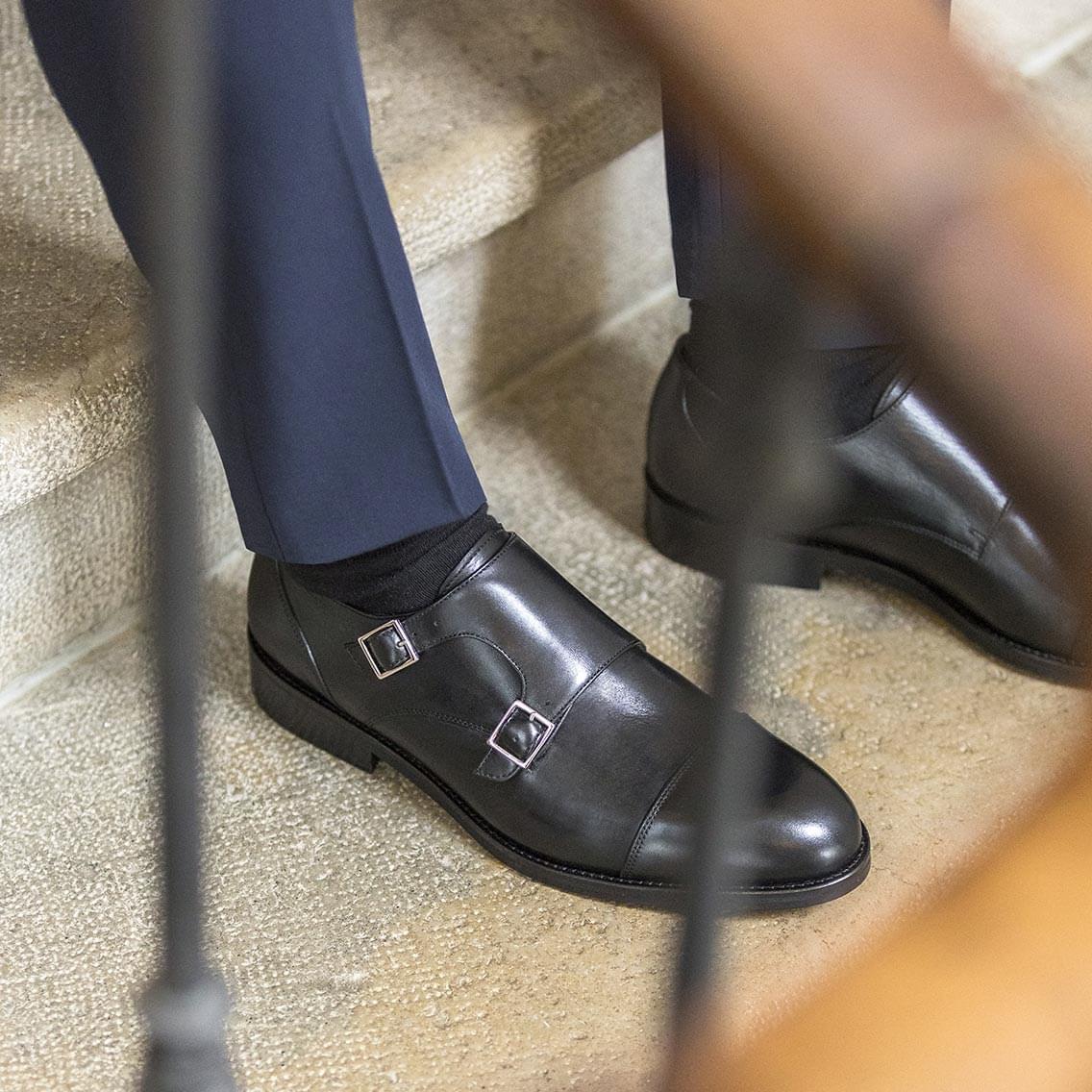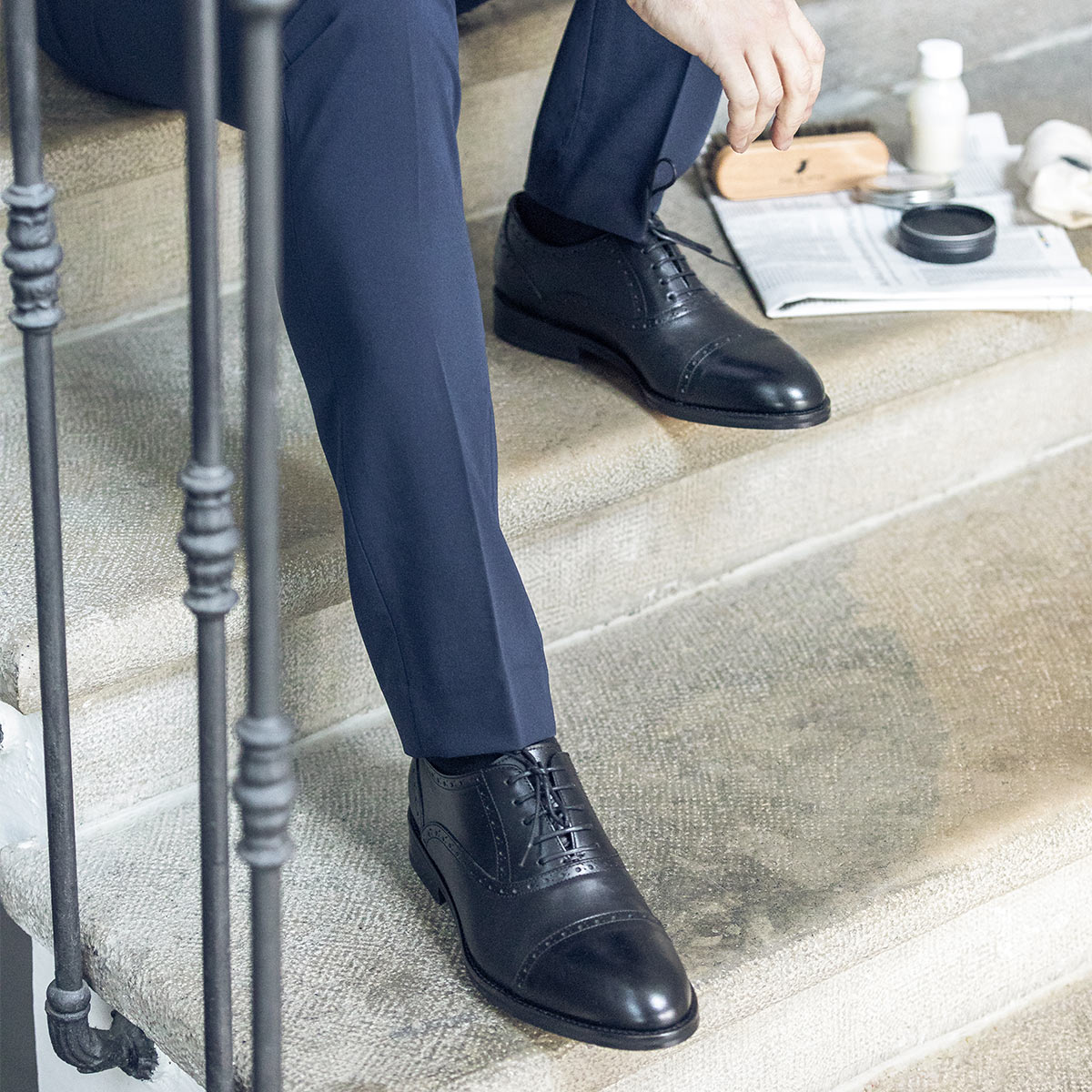 The result: a high-end shoe at an affordable price
All of this gives exceptional shoes, with a well-worked fit and shape of course, but which immediately prove to be comfortable, thanks to the flexibility of the leather and the blake stitching which ensures you finesse and resistance. You can keep these shoes for a lifetime! Obviously on condition that you take care of it because ... with exceptional shoes, exceptional maintenance. For these two models, we strongly encourage you to put on skates to keep your leather soles as long as possible, and especially to use wooden shoe trees, which will allow your shoes to keep their shape.
For an ultra-licked style
Suit shoes ...
Slightly almond shaped, the tip of our Derbies and Oxfords is neither too round nor too pointed in order to perfectly fit the shape of your feet. Our Oxfords and our Double Buckles are therefore ideal to wear with your costumes for a dressy and ultra chic look that will seduce your boss as well as your crush. In black, our Oxfords have even become one of the favorite models of many future spouses on the occasion of their wedding.
...to casual look
In suede or tan color, our Derbies and Oxfords also offer a more relaxed look. You can wear them with jeans or chinos and a small shirt for a casual chic style. Perfect for an aperitif with friends as for a garden party!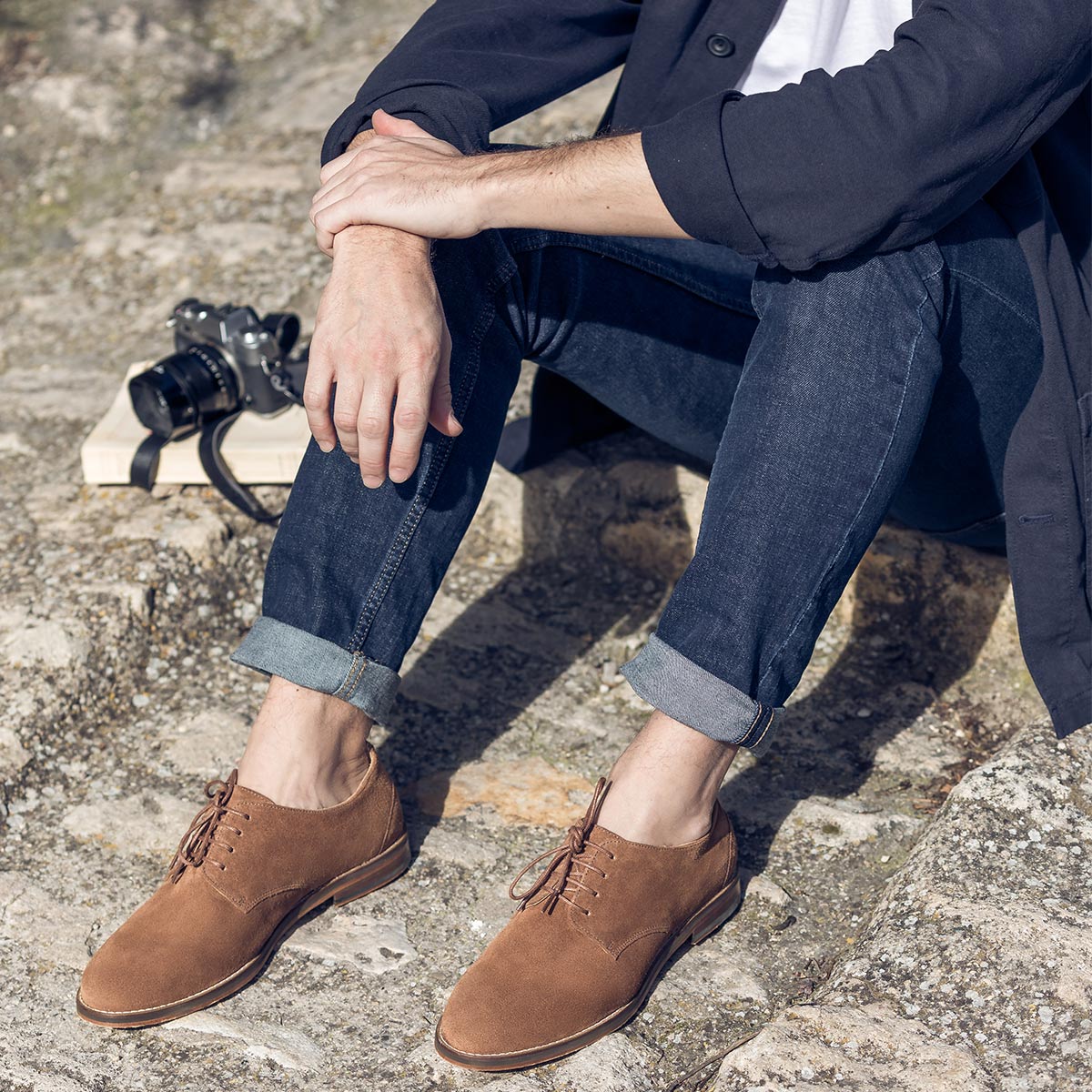 Back to top