Surtitre
Titre
Lorem ipsum dolor sit amet, consectetur adipiscing elit, sed do eiusmod tempor incididunt ut labore et dolore magna aliqua. Ut enim ad minim veniam... , quis nostrud exercitation ullamco laboris nisi ut aliquip ex ea commodo consequat.See more
Surtitre
Titre
Lorem ipsum dolor sit amet, consectetur adipiscing elit, sed do eiusmod tempor incididunt ut labore et dolore magna aliqua. Ut enim ad minim veniam... , quis nostrud exercitation ullamco laboris nisi ut aliquip ex ea commodo consequat.See more
Surtitre
Titre
Lorem ipsum dolor sit amet, consectetur adipiscing elit, sed do eiusmod tempor incididunt ut labore et dolore magna aliqua. Ut enim ad minim veniam... , quis nostrud exercitation ullamco laboris nisi ut aliquip ex ea commodo consequat.See more
don't want
Up, 7 a.m. The sky pulls the face and your feet wonder if once again they will have to put on these heels, certainly damn stylish but not frankly comfortable 3 days in a row. We wonder what we will be able to set our sights on.
We would take out the ballerinas well, but we did not invest in this top to get there.
This is what prompted us to design these Women's Moccasins: more assertive, less flat, more dressed and which make it possible to perfect each outfit, like heels. Discover the many models of this old lady who has become stylish.
ONE HEEL FOR HEAVING HEELS
The heel size measures 2 cm and the thickness of the leather sole, 6mm. No more no less. Enough to have a pair dressed without wondering if we should have rather put on heels this morning. No more to be able to also slip it into his handbag, if we decided to have a drink Thursday or Friday evening (or both).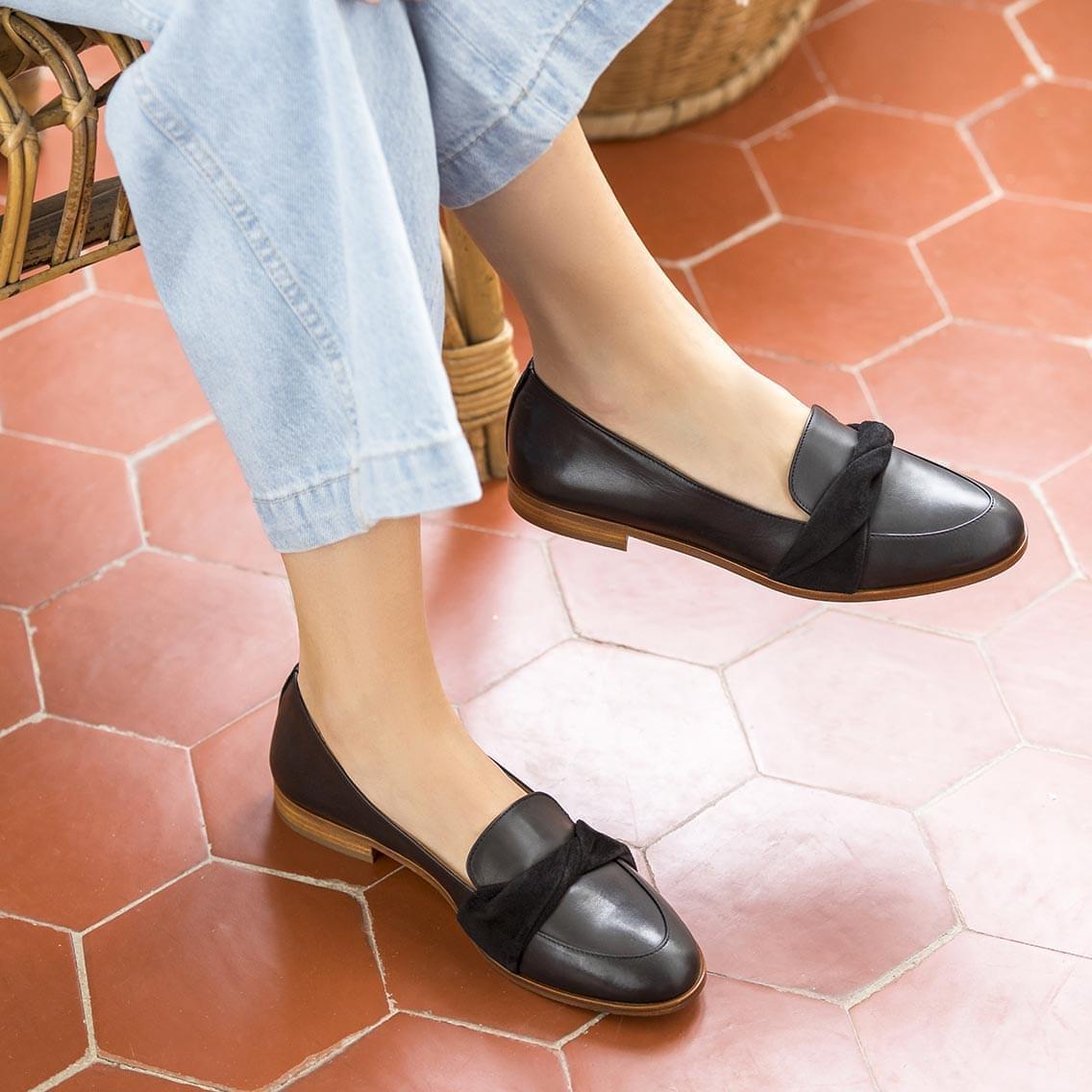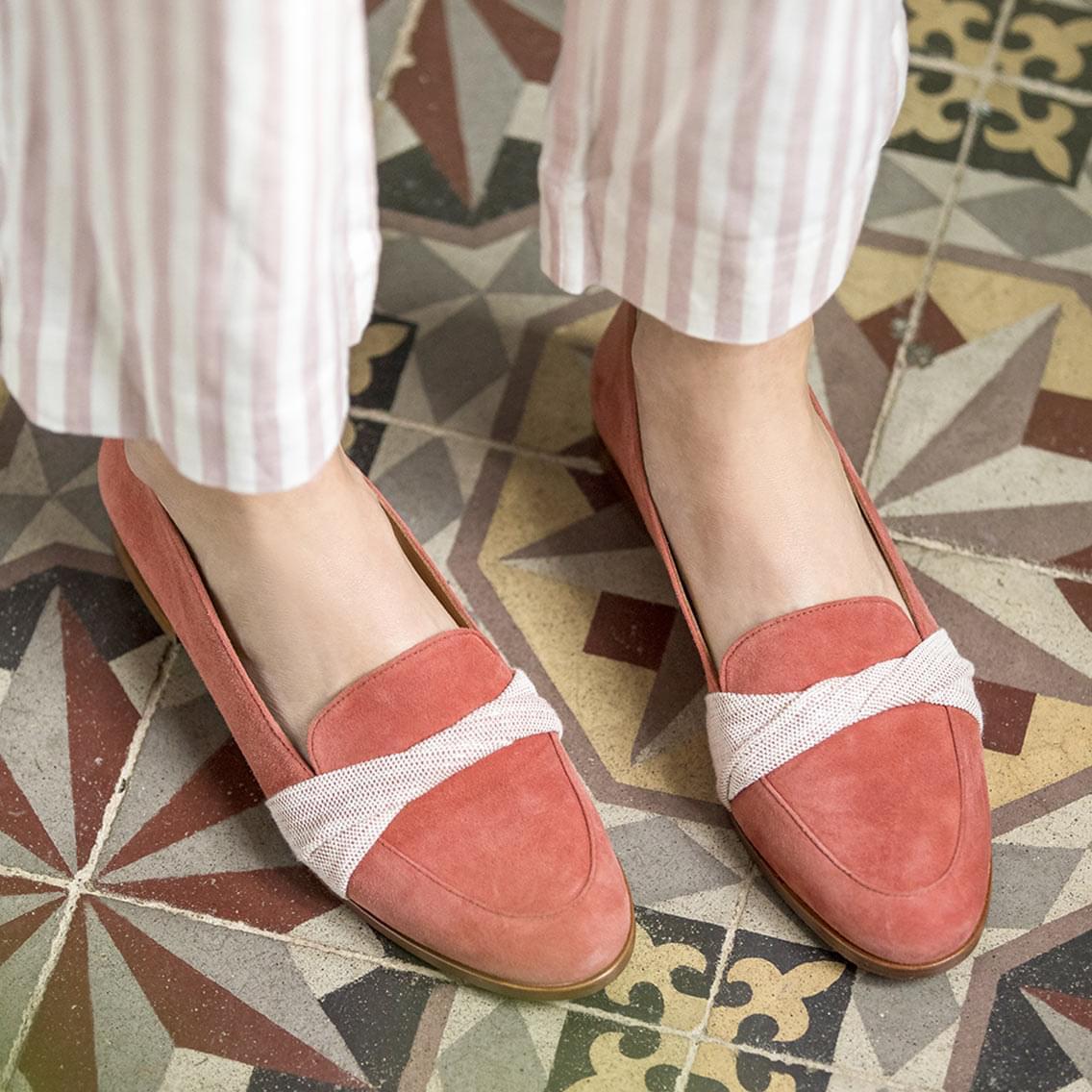 Juste to keep until friday
We designed two models: the leather moccasins with twist: it twist the moccasins. Its material is different from the rest of the shoe. This is what builds our brand identity and that of your outfit: the bi-material (sometimes two-tone) that we apply to each of our Women and Men shoes. Those without twist: we only see the join, it has a very fashionable side. The old lady back at it again.


WHAT TO OPTIMIZE YOUR WARDROBE
The top of the shoe is cut to highlight your foot and extend your outfit. A little nothing that makes the difference on several models from our feminine catalog. It cuts right on with jeans, it gives more character with tights, new with a dress. Perfect for optimizing your wardrobe.
MY COMFORT PARTNER
These Moccasins are flexible thanks to the cowhide leather lining. So no sore feet. The "first of cleanliness" (the first layer that receives your foot in the shoe) is also made of cowhide leather. And underneath, we've put a comfort pad ☁️ Promise, you don't want to put on something else when it comes to going to Sunday brunch, in a relaxed manner.
Moccasin 1, HEEL 0
Like all our women's shoes, our Moccasins have an anti-slip at the heel. It allows you to properly maintain your foot, which would tend to trunk on this kind of shoe. This is what will make this pair your alter ego when it comes to gently accelerating your pace so as not to be completely late this morning.